Top 10 Valentine Gifts for Husband 2017 – Extensive Web Compilation
So, on web, you get to see so many websites, selling Valentine's Day gifts for your husband, and many blog articles guiding you about the top Valentine Day gift for husband. Well this post is all about finding the best from the internet. Internet has so many content, some good, some precious, some waste, and some which makes you wonder, why did you even look at it! So, here's what we have done. We have selected the best from the internet – related to – 'Valentine Day Gifts for Husband' – so that you might not have to read every article or visit every web-store, but just one good content, very good content and thats it. So lets begin!
The article covers these sub-headings
Top 10 Romantic Gifts for Husband on Valentine's Day 2017 which are just perfect
Top 10 highly creative Valentine Gifts for your husband
Top 10 love messages that you could write to your husband on Valentine's Day
Top 10 Valentine Gifts for Husband on Valentine's Day 2017, when budget is not an issue
Top 10 Valentine day gifts for husband under INR 999
Top 10 Homemade Valentine Day Gift ideas for your husband
Top 10 Valentine day gifts for husband, which would actually be a useful gift for him
Top 10 things you could do to make your Valentine's Day with your husband extra special
Top 10 movies you could watch with your husband on Valentine's Day
Top 10 promises that you could make with your husband on Valentine's Day
---
Top 10 Romantic Gifts for Husband on Valentine's Day 2017 which are just perfect
1. Heart in Hand – Stone Sculpture
Heart in Hand Stone Sculpture @ INR 7174 : This stoneware sculpture represents the willingness to give and receive love, and the need to protect it. Carved by hand from stoneware, this sculpture represents the willingness to give and receive love, as well as the need to protect it. Lovingly made by hand, each piece bears one-of-a-kind details, much like the loved ones in our own lives. The intricate folds and lines in the hand and fingers are added after the clay is firm to give the hand a distinctive and realistic feel. Since each sculpture is individually carved, no two pieces are alike. Handmade in Kansas City.
2. 15 Photo Collage Cylindrical Vase
Collage Cylinder vase @ INR 10,761 :Price bit high for the product, but the product is very stylish and romantic at the same time. May be one could wait for discounts. Celebrate life's special memories with this custom vase that displays fifteen of your favorite photographs.
3. Love Photo Collage Canvas
Collage Photo Canvas, of A3 size at INR 1499. The pre decided layout and templates make it easy for you to create the prefect collage photo gift for your husband. There are other themes and layouts as well on the website selling these personalized gifts
4. Personalized Caricature Magnets / Chumbaks
Artist drawn caricature based on your photos! Simply wow! These caricature chumbaks will cost you INR 2699, and there are two faces that have to be drawn by the artist. Now there are various themes and all of them are very apt for husband wife relationship. Here is a one where the husband says I love You to her wife, and they are in a playful mood. Check out the other themes as well
5. Printed Photo Cushions – Set of two
INR 802 for a set of two cushions, is a deal! Personalized Cushions for Valentine. These are cute, useful, and personalized. One of the best options for the valentine's day gifts. Everyone has a different choice, so explore more designs here
6. Set of two Valentine themed Coffee mugs
Set of two Coffee Mugs – Valentine Themed @ INR 600. We know mugs are quite common, but the design here are killer. One should not miss these mugs this Valentine's season. We bet, this could become your husband's favorite mug for ever. More designs for mugs
7. Message in a Bottle
Message in a Bottle @ INR 1490 : Make a lasting impression on someone today – send them a message in a bottle! The recipient will receive a corked bottle like it travelled across thousands of miles of ocean and land! Inside are some shells, sand and your message on rolled paper.
8. Personalized Newspaper Print
Personalized Newspaper @499 : Get this truly amazing personalised newspaper front-page print that has your choice of newspaper name, headlines and other details. With it's permanent print and great quality it makes the best possible gift on any special occasion. You can either fold the print over a real newspaper to surprise someone or frame it (framing not included) as a permanent memento!
9. Engraved Love Message on Glass Crystal
Wonderful glass engravings @ INR 1399 . Express your love, get your own message, or choose from the templates that the website provides. It could be as romantic as you want it to be. The message makes it more romantic. Heart shaped crystals are also available at the store.
10. Caricature Canvas Clock

Wow! This looks so cute. Caricature canvas  clock. This looks very classy and costly as well. Priced at INR 2999, which isn't that much, if you look into the artist work involved in making two separate caricature of husband and wife. This is one romantic as well as useful gift you can try this Valentine
Top 10 highly creative Valentine Gifts for your husband
1. Personalized Caricature T-shirt
Artist drawn caricature t-shirts printed on sporty t-shirt sold @ dezains.com, also available at giveter.com. It's priced at INR 1399.00 and usually takes 4-5 days for the preparation.
2. Wooden Wine Glasses
Wooden wine glasses by Uncommon Goods. They have recently started shipping to India. Cost for two is INR 9469, which is on a bit higher side. Anyways its creative, and if money is not an issue, you can give it a try
3. Beer Making Kit 
Ginger Beer Making Kit – Sold by Uncommon good for INR 8250/- . Bit expensive, but again creative! Description : Spice up your Moscow Mule by making one of its essential ingredients—ginger beer—from scratch. With this kit, you can ferment up one gallon of piquant ginger beer from all-organic ingredients in about a week's time. It comes packaged in an embroidered mesh bag for easy brewing, and while the standard soda is non-alcoholic, you can also make a spiked version:
4. Caricature Poster for Husband
Caricature Poster with full customization priced at INR 2999 (for canvas). Now this is again a super creative gift for your husband. You know him the most, and you describe him to the artist. And the result is this highly personalized poster. They have the options of framing it, or printing it on a canvas.
5. Handcuffs – Playful
Priced at INR 399, this could be one cute little creative gift for your husband. Surprise and delight your partner with these faux fur covered handcuffs. Lightweight, soft and great fun for hen parties or for those intimate moments!
» Lightweight metal handcuffs
» Faux fur decoration
» Color of fur on handcuffs may differ from that shown
» Although keys are included but the cuffs open with a switch
6. Beer Barrel for your Husband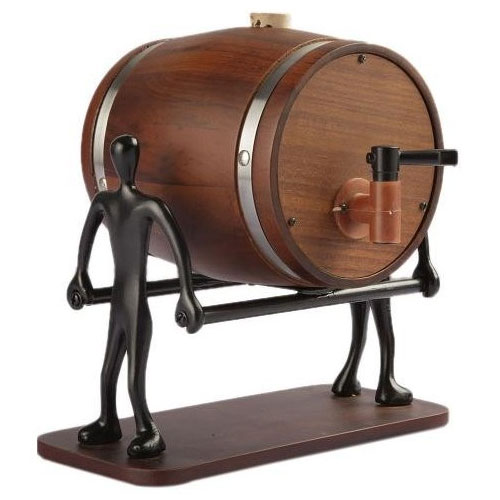 Liqour Barrel for your Husband priced at INR 1550.00. Serve your alcohol in style with this teak wood decanter that is styled on real wine barrels. With a corked top and a tap to pour your favorite drink this decanter fits in perfectly in your next party
» Diameter: 12 cm
» Depth: 14 cm
» Approximate capacity: 1 litre
» Openings: Corked top and plastic tap in front
» Metallic men figures holding barrel
7. Hand drawn Sketch – Framed
Hand drawn pencil sketch printed on Canvas. Bit on higher side, priced at INR 2999, but the quality, size speaks it all. This might take time for preparation, so we would suggest you to order well in advance!
8. Engraved Whiskey Glasses
Engraved whiskey glasses, decently priced at INR 599. A good quality regular Ocean brand glasses, you could order in set of 4 or set of 2, with engravings or even without engravings.
9. Husband wife Caricature t-shirt
This husband-wife t-shirt is really creative, which reflects the made of each other types relationship. This could be wore on any get together, or couple's party! A must try this Valentine's
10. Bat man inspired Coffee Mug

Batman inspired mug, Priced at 699, this is a very creative and holy mug, for Batman lovers! Holy smokes! Now you can enjoy your brew in true superhero style with the rugged Bat Mug. This unique matte finish ceramic mug features bat-wing handles, it's the perfect way to crash, bang and pow your way through the day! Inspired by the crime-fighting hero Batman, the Bat Mug will make you feel like a hero whenever you're enjoying milk, tea or coffee.
Top 10 love messages that you could write to your husband on Valentine's Day
Don't ever stop dating your wife and don't ever stop flirting with your husband

Missing you is my hobby, caring for you is my job, making you happy is my duty and loving you is my life

I choose you. And I'll choose you over and over and over. Without pause, without a doubt, in a heartbeat. I will keep choosing you.

I love you. You annoy me more than I ever thought possible. But i want to spend every irritating minute with you.

I have a man who loves me without restrictions, trusts me without fear, wants me without demand and accepts me for who I am

There is no pretending, I love you and I will love you until I die, and if there is a life after that, I'll love you then.

I wish i could explain your eyes and how the sound of your voice gives me butterfiles. How your smile makes my heart skip a beat and how every time I'm with you, I feel so complete

To my wonderful husband, who has shown me what love really is. Who is the reason for my happy days & the comfort in my sad ones. Who cheers my successes & comforts me in my failures. I am so proud to be your wife. I love you. Cheers!

I couldn't have asked for a better person to walk into my life than you

Its so amazing when someone comes in your life and you expect nothing out of it but suddenly there right in front of you is everything you ever need
Top 10 Valentine Gifts for Husband on Valentine's Day 2017, when budget is not an issue
Top 10 Valentine day gifts for husband under INR 999
Top 10 Homemade Valentine Day Gift ideas for your husband
1. A jar of reasons why you love him : Decorate a small glass jar with ribbons, felt hearts, and other decorative items. This unique gift can be added to a shelf as a decorative piece, and can be customized with a personal message from you. Details
2. Restricted Time – Love Envelopes : If you're struggling to think of the perfect gift for your loved one, how about several throughout the day? In fact, you can present envelopes to your partner every 14 hours with these handmade envelopes. Create your own labels to attach to each envelope and organize the gifts throughout the day. Details
3. Heart String Home Decor : This creates a fun, random, geometric pattern, and fills in the shape of your heart with some nice color.  I continued to wrap back and forth until I felt that my heart was filled in enough.  After awhile you just start duplicating your patterns over and over, so I found that as an indicator of a good stopping point.  I wrapped the twine three times around the very bottom nail at the point of the heart, and then tied it tightly, again triple knotting for security.  I left the tail a bit long, and wove it into the outline of my heart. Details
4. Candle carved with Initials : This DIY candle carved with initials is easy to make and it makes a great personalized, handmade gift for everyone in your circle. It might feel like all the holidays are behind us, but Valentine's Day is right around the corner. As much as I love covering everything in red and pink, I find it difficult to get excited about shopping so quickly after Christmas. Details
5. Origami Fortune teller Idea : So you might remember making origami fortune tellers in school? You could write fortunes or even dares. Well it's the same idea, only this time instead of choosing a fortune, it plans your date night! You can come up with various ideas that can easily mix and match – for example I chose restaurants all in the same area and activities that were nearby so that no matter what was 'chosen' they would all work together easily. There's the opportunity to have either four or eight choices. Do what works best for you! Details
6.  Origami Envelopes : The only thing you should be carefully about is when doing steps 4 and 5 – the folds must begin from one and the same place (we highlighted this with a black stippled line). It's up to you how you would decorate your envelope:) Details
7. Your lyrics on a photo frame : I'm sure a lot of couples will understand when I say that when you've been together for a long time, you run out of ideas for gifts. Especially for anniversaries.When I hit this road block a couple of years ago when Rohit and I were celebrating five years of having known each other, I turned to my one trusted advisor: Details
8. Chocolate Valentine Kiss cookie Recipe : For me The Kitchen is My Playground has always been about more than cooking, baking, and writing about it.  It's also an opportunity to do something I love … cook & bake … that I would do no matter what … and turn it into an opportunity to give back to the community.  Even if it's in just a small way. And so I began this newest baking project back in October, and have continued with a new sweet treat each month since. Details
9. Hand Warmers : Keep your hands and your hearts warm this winter with these homemade hand warmers! This would make a great last minute holiday gift, or plan ahead and make this for your sweetheart for Valentine's Day. Details
10. 100 Date Night Jar Sticks : If you are anything like us, then finding activities that both you and your partner enjoy can become daunting, and sometimes the easiest thing to do is dinner and a movie (Classic). Nevertheless, the repetitive dinner and a movie can become somewhat boring. So if you are looking to get creative with your spouse or significant other then check out this cool project that I made. I have added 100 Date Night Activities that I think you both will enjoy. Remember to throw in some activities that you all like as well. Lets get started. Details
Top 10 Valentine day gifts for husband, which would actually be useful gift for him
Top 10 things you could do to make your Valentine's Day with your husband extra special
Top 10 movies you could watch with your husband on Valentine's Day
1.  A walk to Remember : IMDB 7.4 : The story of two North Carolina teens, Landon Carter and Jamie Sullivan, who are thrown together after Landon gets into trouble and is made to do community service. (101 mins.)
2. Serendipity : IMDB 6.9 : A couple reunite years after the night they first met, fell in love, and separated, convinced that one day they'd end up
3. Stardust : IMDB 7.7 : In a countryside town bordering on a magical land, a young man makes a promise to his beloved that he'll retrieve a fallen star by venturing into the magical realm. (127 mins.)
4. 50 First Dates : IMDB 6.9 : Henry Roth is a man afraid of commitment up until he meets the beautiful Lucy. They hit it off and Henry think he's finally found the girl of his dreams, until he discovers she has short-term memory loss and forgets him the very next day.
5. The longest Ride : IMDB 7.1 : The lives of a young couple intertwine with a much older man, as he reflects back on a past love.
6. Love Actually : IMDB 7.7 : Follows the lives of eight very different couples in dealing with their love lives in various loosely interrelated tales all set during a frantic month before Christmas in London, England.
7. The Notebook : IMDB 7.9 : A poor yet passionate young man falls in love with a rich young woman, giving her a sense of freedom, but they are soon separated because of their social differences.
8. 10 Things I hate about you : IMDB 7.1 : A pretty, popular teenager can't go out on a date until her ill-tempered older sister does
9. Date Night : IMDB 6.3 : In New York City, a case of mistaken identity turns a bored married couple's attempt at a glamorous and romantic evening into something more thrilling and dangerous.
10. Me Before You : IMDB 7.5 : A girl in a small town forms an unlikely bond with a recently-paralyzed man she's taking care of.
Top 10 promises that you could make with your husband on Valentine's Day